Air Freight
Backed by Complete network and powerful strategic partners, CIL Freight Inc. has strong network for Air Freight and International express industry featured with door delivery. We have oversea hubs locating in HONGKONG, SHENZHEN, GUANGZHOU, and SHANGHAI. We offer multiple carrier services to be benefit from most appropriate as well as best -priced solutions at global level.
Containers
The most popular air freight containers and pallets will be indicated, otherwise known as Unit Load Devices (ULDs). Using standardized ULDs makes it possible to pack in large quantities of goods. It also saves time and labor costs during loading.
ULD pallets and ULD containers are made from sheet aluminums and profiles/profile frames. Their standardized construction means that, for example, aircraft cargo nets snap straight into place and heavy pieces of cargo can be secured without any problems.
The different containers and pallets each have their own IATA code which uniquely identifies them. Air freight pallets and containers are designed to be suitable for different types of aircraft and this must be taken into consideration when choosing ULDs. For this reason, the compatible types of aircraft are also given on the list.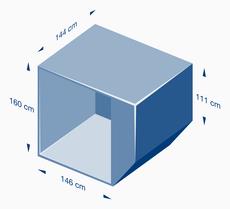 LD3 container AKE/AVE
Type
Code
Base dim. outside
Height outside
Useable volume
Dimensions inside
Acceptable for
LD3 container
AKE / AVE
1,5 x 1,5 m
1,6 m
3 m³
1,4 x 1,4 x 1,5 m
A300, A310, A330, A340, B747-200F, B747-400, B767-400, B767(DE), MD11F
Weight/Volume
Prices (airfreight rates) are always quoted per kg/6 dm3. This can also be called the volume ratio 1 : 6 or 1 m3 = 167 kg. That means you either pay for the weight or the space necessary for the transport of your consignment.
The calculation is always based on the following equation regardless of whether you are paying for the weight or the space:
Length (cm) x width (cm) x height (cm) / 6000 (equals the volume weight in kg)
Type of transport volume calculation
Air freight 1 m³ = 167 kg
Truck 1 m³ = 333 kg
Sea freight 1 m³ = 1 m³ = 1,000 kg
Dangerous goods
Dangerous goods in air freight
It is often overlooked that finished appliances (batteries, gas cartridges etc.) can be dangerous goods or that e.g. a small package is enclosed by the advertising department (advertising lighters, matches, adhesives etc.). Also some types of cosmetics count as dangerous goods and overlooking those goods can have serious consequences. Because...
All dangerous goods must be declared as such and be correspondingly packaged.
The stipulated dangerous goods signs must be enclosed.
in the case of flammable products > the flammable sign
in the case of poisonous products > the LD 50 value and the skull and cross bones
In the case of corrosive goods: the hand beneath a test-tube
For any further information to help you successfully manage your import management, please email to marketing@cilfreight.com
Links to Related Dangerous Goods Sites
U S Department of Transportation httT://www.dot.gov/
Office of Hazardous Materials Safety httT://hazmat.dot.gov/